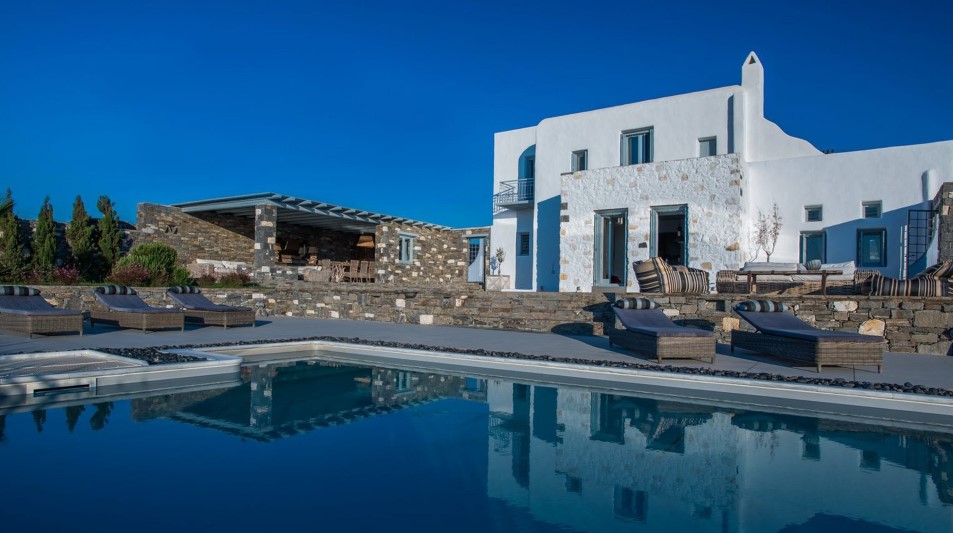 Paros retreat offers you an unforgettable adventure full of relaxing activities and an authentic vacation in a traditional village or visiting a fishing harbor. It's a perfect place for beach lovers, outdoor activities fans, and cliff-hikers – everyone will find their ideal destination to enjoy the Cycladic nature and purity of the Aegean Sea waters. So, villas in Paros will become an ultimate option for those who are striving to find calm, serene, active, and delicious leisure.
With BlueVillas services, you'll enjoy Paros, especially its capital Parikia, which is famous for splendid and inspiring views, golden beaches, uplifting nightlife, numerous boutiques, authentic Greek cuisine, and many other amenities for your comfort.
Want to get maximum convenience during your stay in Paros? Call our BlueVillas tourism advisors, who will provide you with a wide range of luxury Paros villas affordable to all who wish to relax fully. You can choose boutique hotel-style villas, traditional-style accommodations with exceptional views, and even a private pool and balcony.
You'll be stuck in genuine villages forgotten by tourists and hidden towns between the mountains, stone streets, ancient architecture, and carefree life in Paros. You'll rejoice in lovely shops with Greek souvenirs, first-class restaurants and taverns, vineyards with a serene atmosphere, etc.
If you're keen on sports, here you'll find a fitting activity for you – have windsurfing, canoeing, jet-skiing, or scuba diving at golden beaches. Another option we can offer you is relaxation while practicing yoga and pilates. No matter what activity you prefer, BlueVillas managers will do their best to organize your leisure on the top level.
To tune into the beat of Paros soul, we prepared for you an exceptional list of places you must see or things to try in this Greek heaven:
1. Golden Beaches. Want to enjoy crystal-pure water on one of the best beaches in Greece and possibly in the world? Enjoy its golden sandy coastline that attracts windsurfers with its perfect weather conditions. It's a 'go-to' area for windsurfers all over the world. What's more, here we can offer you superb luxury villas in Paros with stunning rocks, soft sand, and renting a sunbed to relax.
2. Taste a Greek wine. Don't you know that Greece is also famous for its viticulture? Then have a try with local red wine made from Mandelaris grapes. Visit Moraitis Vinery, the best vineyard in Paros, and taste a wide variety of this traditional Greek drink with tasty snacks and unique local delicacies.
3. Lefkes Village. It's a pretty village surrounded by cliffs and mountains that can engage you with splendid Byzantine churches made of white marble. Here you'll find lots of hiking roots to explore the wonderful countryside.
4. The Old Port of Naoussa, where you'll find dozens of open-air cafes and restaurants located in peaceful places where only locals enjoy spending their spare time. Just imagine that you're sitting on the terrace of a restaurant, eating fresh seafood, relishing Greek goodies with flavorous wine.
With the BlueVillas team, you don't need to wait till the beginning of the season to visit Paros. We'll select decent activities according to your preferences for you to have a lot of fun and pleasant memories. Whether you prefer visiting Paros capital, Parikia, or examining small villages – we'll find a magnificent villa with all necessary mod cons and memorable scenery.
Related Posts