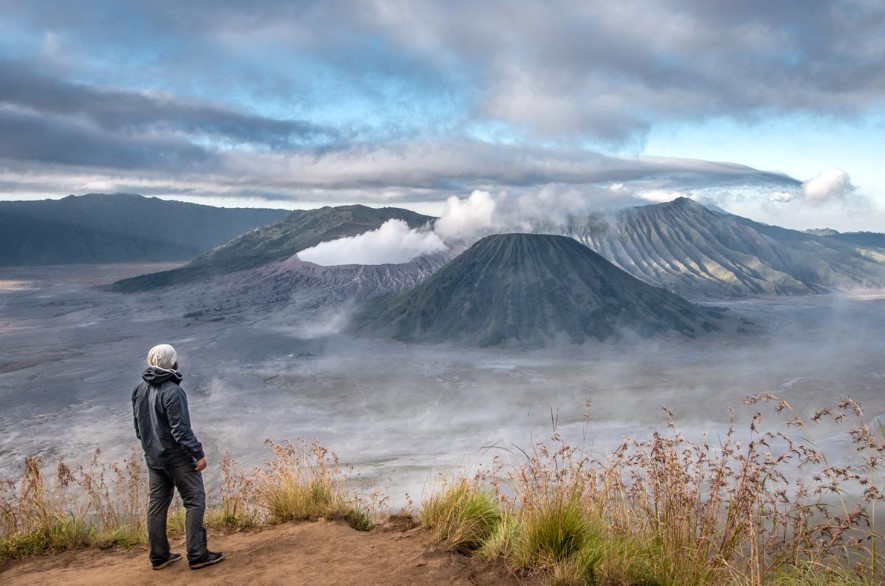 Located in East Java, Indonesia, Mount Bromo is a popular tourist destination known for its stunning views and unique, lunar-like landscape. With its active volcano and surrounding sand sea, Mount Bromo offers a variety of activities for visitors, including hiking, photography, and sightseeing.
History and Geography
Mount Bromo is an active stratovolcano that stands at an elevation of 2,329 meters (7,641 feet). It is part of the Tengger massif, a group of five volcanoes in East Java. The massif is home to the Tenggerese people, who have a long and rich cultural history tied to the region.
The name "Bromo" is derived from the Javanese pronunciation of the Hindu god Brahma, who is revered in the region. The volcano is also known as "Gunung Bromo," which means "Mount Bromo" in Indonesian.
Mount Bromo has a complex geological history and has erupted numerous times in the past. Its last major eruption occurred in 2011, and it continues to emit steam and ash today. Despite its activity, the mountain is considered safe for tourism by using the ijen blue fire tour, with frequent monitoring by the Indonesian government and local authorities.
Getting There
The closest city to Mount Bromo is Probolinggo, which can be reached by bus or train from Surabaya, the capital of East Java. From Probolinggo, it is a short drive to Cemoro Lawang, a village located at the edge of the sand sea that surrounds Mount Bromo. From Cemoro Lawang, visitors can take a jeep or ride on horseback to reach the mountain's base.
Things to Do
The main attraction at Mount Bromo is the opportunity to hike to the crater and witness the sunrise over the mountain. To do this, you will need to wake up early and make the short journey to the viewpoint at Mount Penanjakan, which is located on the rim of the caldera. From there, you can watch the sunrise over the mountain and the surrounding area.
After the sunrise, you can make your way down to the base of the mountain and hike up to the crater. The hike to the crater is relatively easy and takes about 45 minutes to an hour. Once you reach the crater, you can walk around the rim and take in the breathtaking views.
In addition to the sunrise hike and crater visit, there are also several other activities in the area such as horseback riding, jeep tours, and visiting nearby waterfalls.
There are many activities to enjoy at Mount Bromo, including:
Hiking
The most popular activity at Mount Bromo is hiking to the summit for sunrise. The hike is relatively short, but can be challenging due to the steep and rocky terrain. It is important to wear appropriate footwear and bring enough water for the journey.
Photography
Mount Bromo is a photographer's paradise, with its unique landscape and stunning views. Whether you are a professional photographer or just enjoy taking photos, you will find plenty of opportunities to capture beautiful shots at Mount Bromo.
Stargazing
Due to its high altitude and clear skies, Mount Bromo is also a great place for stargazing. On a clear night, you can see the stars in all their glory and even catch a glimpse of the Milky Way.
Where to Stay
There are a number of accommodation options in the area around Mount Bromo, ranging from luxury hotels to budget guesthouses. If you want to stay close to the mountain, there are several hotels and guesthouses in the town of Cemoro Lawang. There are also several camping sites in the area if you prefer a more rustic experience.
Food and Drink
The area around Mount Bromo has a wide variety of food and drink options to suit different tastes and budgets. There are several local restaurants and warungs (small food stalls) that serve traditional Indonesian dishes such as nasi goreng (fried rice) and mie goreng (fried noodles). There are also several Western-style cafes and restaurants if you are craving something different.
Safety Considerations
Mount Bromo is an active volcano, and as such, there is always a risk of volcanic activity. It is important to follow the instructions of the local authorities and the park rangers at all times and to stay within the designated areas. It is also a good idea to bring a mask with you, as the air quality can be poor due to the volcanic fumes.
Conclusion
Mount Bromo is a must-visit destination in Indonesia, offering breathtaking views, unique landscape, and rich cultural experiences. Whether you are a nature lover, a photographer, or just looking for an adventure, Mount Bromo has something for everyone. So why wait? Plan your trip to Mount Bromo today with bromo ijen tour from bali and experience all that this amazing destination has to offer!
Related Posts