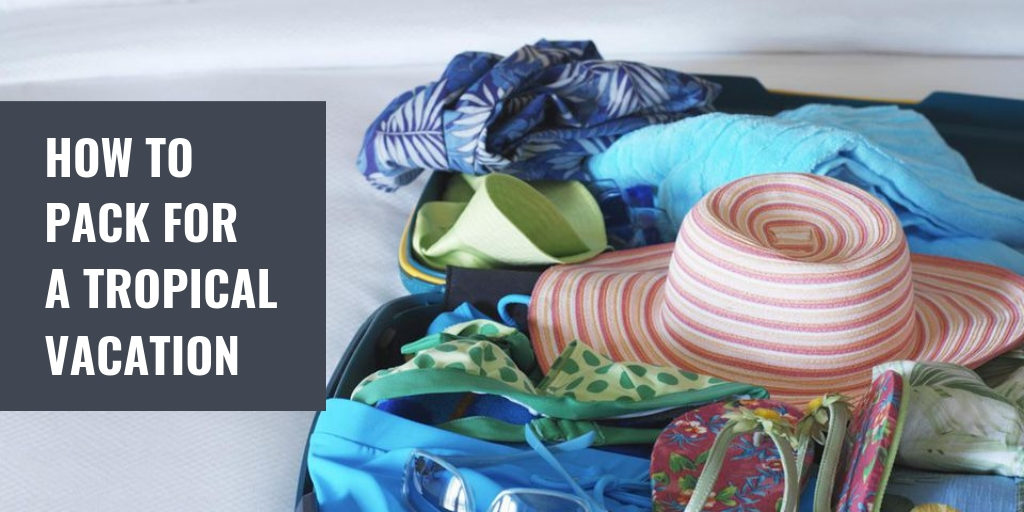 Packing for vacation can be a little unnerving. What if you forget something? What if your luggage is delayed or stolen? And if you're packing for a tropical vacation, you might be even more unsure of how to pack, especially if you've never been there. But rest assured, packing for a vacation on the beach can be simple and stress-free if you know a few tricks.
Protect your skin
The entire reason people take tropical vacations is to experience some fun in the sun, but the sun might shine a little differently where you are. Tropical destinations are closer to the equator than, say, the continental United States, so the sun's rays shine the strongest there. Add to that the reflection from the water and sand, and you have a combination for a nasty sunburn. But that shouldn't stop you from enjoying yourself. Just use a little extra caution. For one thing, pack plenty of SPF 30 sunscreen and make sure everyone with you applies it before and after they go in the water. Also pack hats. The bigger the brims, the better the coverage. Swimsuit cover-ups and long-sleeved shirts will also help protect more of your skin.
Think layers
Temperatures on tropical islands can fluctuate quite a bit. Depending on the time of year you visit, you may experience some tropical storms and wind. It's always best to pack clothing you can layer so that you can either add a sweater to get warm at night or dress lightly to keep cool during the day. Do your shopping ahead of time by choosing an online boutique where you can find comfortable dresses, shorts, and outerwear you can mix and match.
Keep your belongings dry
You will want to pack a couple of tote bags to carry your stuff around on the beach, especially if you're planning to wear swimsuits or other clothes without pockets. It's best to buy waterproof bags or plastic zipper bags to put stuff in when you go swimming, and large totes for keeping everyone's things all together. Also, pack a few lightweight rain jackets or ponchos if you'd like to keep yourself and your clothing dry during tropical rains.
Minimize your accessories
It's always wise to travel with very little jewelry, both for safekeeping and for light packing. Unless your tropical plans include a formal dinner at an exclusive event, an everyday necklace and earrings will do. Keep the same rule for makeup and other toiletries. Pare down your makeup bag to the essentials you wear every day and pack rubber bands and such for low-maintenance beach hair days. Other toiletries such as hair sprays, gels, and other products can probably be minimized by packing travel-sized bottles.
Dress for the occasion
If you're going somewhere new, you've probably already planned most of your activities ahead of time. This means you can plan your wardrobe accordingly. If you're planning to attend a Maui luau, for example, you will probably want to wear a fun dress and sandals and possibly take along a light sweater for the cooler evening weather. But if you're going on a hiking or sightseeing adventure, such as a Hawaiian volcano tour, you'll want to wear comfortable walking shoes and possibly, long pants. Water shoes are also essential for days on the beach, especially when the sand is too hot for bare feet.
The most important thing is to have fun. Load up a few waterproof cameras and capture your best moments. A tropical vacation may be a once-in-a-lifetime opportunity for your family, so be sure to make the most of it.
Related Posts